The Frae Race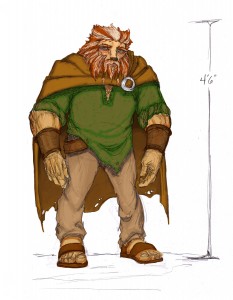 .
.
.

.

.

.

.

.

.

.
.

Members of the Frae race are also commonly called, "Broad Chests", or even "Gruffers" (Gruffers due to their innate rough personality – especially toward strangers.
Maq
Gruffer (or Barrel Chest), male.
Age: 47 years old.
Height/Weight: c. 6 feet, 230 pounds.
Coloring: His skin could be most any skin color. Not sure about his eyes, or hair.
Clothing: tunic and cloak, perhaps with more than a little goat or animal skins as well, sandals. He may be seen with disheveled hair and beard tangled with lichen, moss, leaves, mud, and twigs
Like Echet, Maq has also been living as a hermit all his life. He is a very skilled woodsman. In fact, he can become nearly invisible (through stealth, not magic) to those who intrude into his beloved forest. Maq has a rough and intimidating personality, but Annabelle eventually discovers that inside he's a softy.
The first two pictures are for reference only; they'll be removed when the Frae race is finalized.
Immediately below, is one of the writers' lame attempt to approximate a Scottish accent as an example for Maq's voice. When we get a better clip, this clip will be destroyed, thrown into the fiery maw of Mt. Doom, never to be heard by mortal men again.
Audio clip: Adobe Flash Player (version 9 or above) is required to play this audio clip. Download the latest version here. You also need to have JavaScript enabled in your browser.